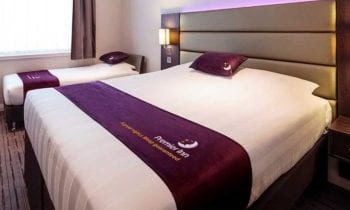 Whitbread has announced plans to "double its presence" in Oxford this year with the opening of two new Premier Inn hotels. 
The group has said it plans to open a new 123-bedroom Premier Inn hotel at Botley in April, and a flagship 90-bedroom hotel opposite the Westgate Shopping Centre in the summer.
The expansion will create approximately 50 new jobs on opening, with Whitbread stating that it will "focus on recruiting employees from the local area".
It comes as part of the company's plans to expand into the city. Currently Whitbread operates two hotels in Oxford, at Oxford Business Park in Cowley, and a 101-bedroom hotel at Kidlington adjacent to Oxford Airport which opened in March 2020.
Alex Flach, development director at Whitbread, said: "We have a busy few months' ahead of us in Oxford as we complete our new hotels at Botley and Westgate and get them ready to welcome our guests.
"The openings are important milestones for the business as we strategically grow our network in popular and accessible locations across the city where we see strong, long-term demand for our bedrooms."
He added: "While Covid-19 has impacted the hospitality industry in the short-term, there is no question in my mind that Oxford will rebound and will continue to be an important destination for leisure and business visitors for years to come.
"We're very upbeat about the long-term prospects for our hotels in the city and we're on the lookout for the next generation of locations for our customers, especially in the city centre and to the east of the city."