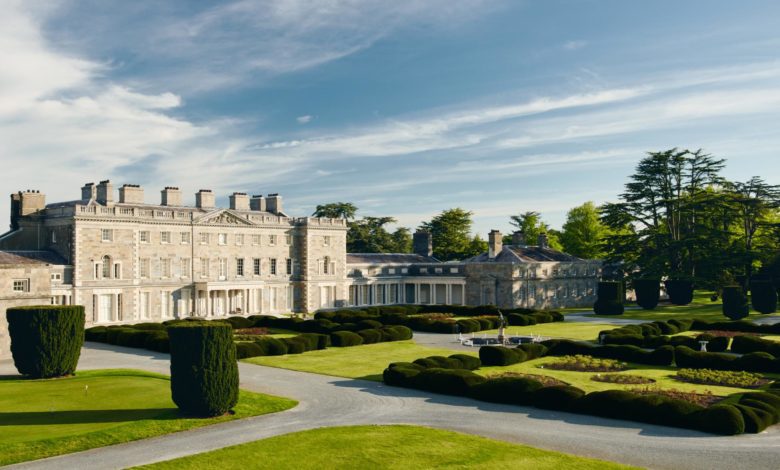 The Fairmont Hotels and Resorts-managed Carton House hotel is set to open this summer following an extensive two-year, multi-million euro refurbishment.
Carton House was the home of the influential and aristocratic FitzGerald family, and is now in the proud ownership of the Irish-American Mullen family.
The 18th Century Palladian-style mansion, The House, is at the heart of the estate and will be the "centre of the guest experience" when the hotel opens this summer.
Its series of state rooms including the Gold Salon, the Drawing Room and the Bell Room all of which have been restored. Fairmont also added that a number of new elements have also been added to "elevate the guest experience".
The new Whiskey Library features an "encyclopedic selection" of uisce beatha, while a casual dining restaurant – Kathleen's Kitchen – has been created in the original kitchens of The House.
In addition, The Courtyard Bar, serving light bites alongside wine and cocktails and The Morrison Room have also been added to its offering. The new space has been transformed into the resort's fine dining evening restaurant and morning breakfast room.
The complete refurbishment of Carton House has been carried out under the creative guidance of McCauley Daye O'Connell Architects. The hotel also now features 18 bedrooms and suites which occupy the first floor of The House, with a further 151 rooms in The Garden Wing which curves around the formal gardens.
The Carton House Spa & Wellness has also been "completely reimagined" with a new treatment menu and thermal relaxation experience.
John Mullen, owner of Carton House, said: "This has been a labour of love for myself and my family, and the extended teams of specialists and experts who have worked on every detail of this large and complex project. We could not be more proud and delighted to share the magnificent refurbishment of Carton House with our first guests this summer.
"It has been a challenging time for hospitality businesses everywhere, so we are happy to be able to offer a positive, good news story, writing a new chapter in the story of this splendid and historic estate."